I love this Zucchini Muffins and Bread without Gluten recipe because it is so darn good for you while tasting great. I was given this recipe by a fellow health coach, Andrea Trank, who I met through The Academy of Integrative Medicine, where we both studied. I made some minor modifications to the recipe but it is basically hers.
I recommend a visit to Andrea's website, for more incredible anti-inflammatory recipes. You will see that she is also a talented jewelry designer and yoga instructor. She is located in Florida and offers online yoga instruction. I enjoy my subscription to her blog, Heaven Lane Healing & Creative Arts, where she shares her passions for clean living, the health of the planet, beauty, and overall wellness.
Zucchini harvest season historically has been a couple of months here in Northern California. This year my zucchini plant produced much longer than that. My plants began producing in June and the plant is still producing in mid October! Maybe the dark skies we had during the fires caused this? I'm not sure. Anyway, if you're like me and still have zucchini try this Zucchini Muffins and Bread without Gluten recipe.
This Zucchini Muffins and Bread recipe would be delicious using any squash including pumpkin.
When I made this recipe I doubled it because I wanted to try both bread and muffins. I preferred the zucchini muffins over the bread. The reason I preferred them is because I added crushed walnuts to the muffins which toasted nicely and gave a richer flavor. Next time I make the zucchini bread I will add crushed walnuts to the top of the bread. If you try this please note that you may need to tent the bread with foil part way through baking once the walnuts are browned. This is not necessary for the muffins because they bake faster than the bread.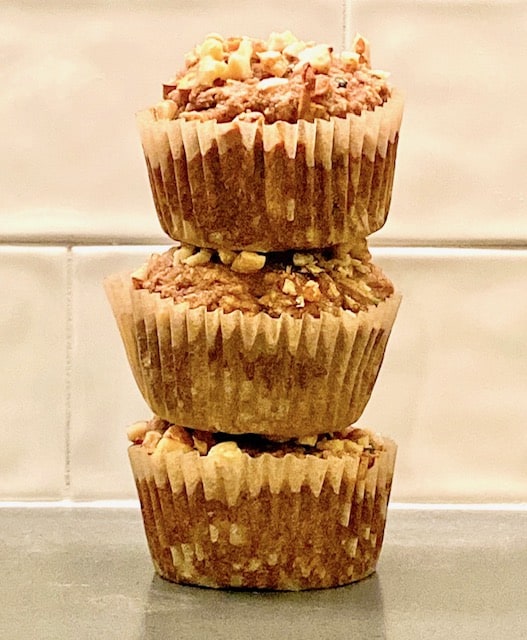 I hope you enjoy this recipe as much as I did. If so please rate and comment. I love to read your comments and both help the success of the blog. Thank you!